About Us
Everyone deserves the chance to pursue a better life. Higher education remains the most effective path to transform lives and drive a more equitable society.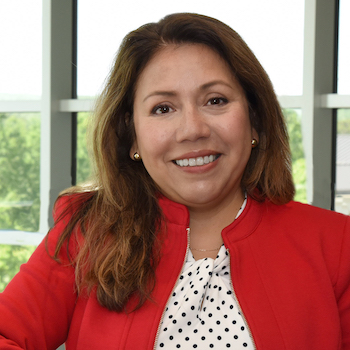 I know first-hand the transformative impact college access has on economic mobility. As immigrant, I pursued a college degree while working full-time and raising my children. I am dedicated to helping students from all backgrounds and walks of life learn about the postsecondary opportunities available to help them achieve their dreams. Ekaterina Struett, CEO
Our Vision
We envision a world where students' backgrounds do not determine their destinies.​
Mission Statement
We increase opportunities for students by making education beyond high school more accessible and equitable.
We do our work with grace and humility
Students, advisers, and communities are the center of our work.
Listening, supporting, and learning with them are vital to address
equity and advance opportunity.
We use data to assess our progress and to fuel new ideas and strategies
We grow by seeking out and sharing knowledge and resources through collaboration. Our data focus strengthens the college access field and allows us to learn and scale effective practices, which leads to better outcomes for students and advisers.
We lead with courage and tenacity
In the face of challenges, we persevere and persist in accomplish our
goals. Just as our advisers work in selfless service for our students, we will overcome obstacles to realize a more just and equitable education system.
We believe that equity is at the core of all we do
We were founded on the belief in educational equity for all. Our
diversity strengthens us to find innovative ways to tackle new
challenges.
Sometimes you're a teacher.
Sometimes you're a counselor.

Sometimes you're a friend.
Chelsea Vickers, Alumna, UNC-Chapel Hill 2020-2022
Ed.M. Candidate, Harvard Graduate School of Education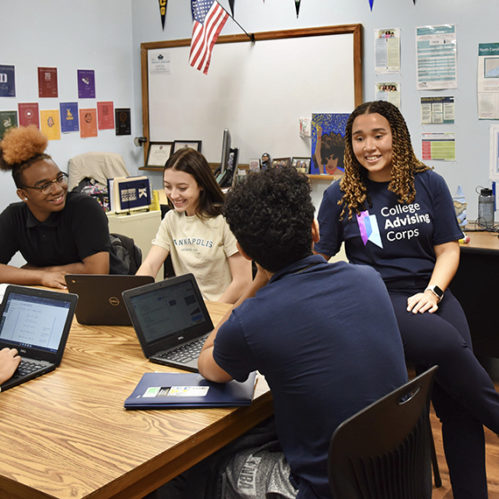 We give students a personal role model, champion, and resource who understands what they are up against and is available every day to help them down a path to postsecondary success.
College Advising Corps found its start in 2005 by placing 14 recent University of Virginia graduates in rural communities where college-going rates were below the state average. Additional partnerships forged in subsequent years have placed thousands of advisers in under-resourced high schools across the U.S., helping nearly 1 million high school students access a college education.
Join
Join a growing number of recent college graduates committed to making sure every student, regardless of background or financial circumstances, is equipped to identify and pursue higher education.
Give
Join our many supporters who, like us, are committed to ensuring our nation's students are able to access education after high school as a path to a successful career and a better life.