Life After The Corps
2 min
Mikayla Cowen
---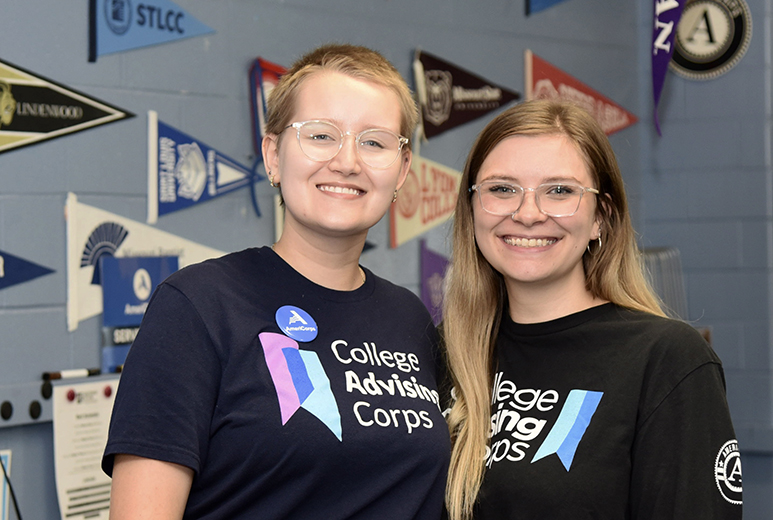 Mikayla Cowen always knew she wanted to attend college. Mikayla's mother enrolled in community college when she was young but was unable to complete her degree because she was needed at home to care for her mother. Nevertheless, Mikayla's mother encouraged her to pursue higher education.
After graduating from high school in 2016, Mikayla enrolled at Truman State University in Missouri, graduating with a Bachelor of Arts degree in psychology in May 2019.
My mom's story motivated me to complete my degree. —Mikayla Cowen
Interested in a service project before pursuing a master's degree, Mikayla applied to serve as a College Advising Corps adviser at the University of Missouri-Columbia. She hoped for a career in social work and felt serving as an adviser would provide "insight" into the career field.
Today, Mikayla is a college admissions specialist at Gateway STEM High School in St. Louis, Missouri, where she works with Arifa Klokic, a second-year adviser at the University of Missouri-Columbia. Don't forget to look for Mikayla on CAC Connect. Read on to learn more about her time as a College Advising Corps adviser.
What was most rewarding as it relates to your service?
Building relationships with and helping students was absolutely the most rewarding part of my service with College Advising Corps. There is nothing more rewarding than being part of something that helps to create equal opportunities for students who may not otherwise have access.
How has your service with CAC helped propel or inform your career?
My service with College Advising Corps is the reason that I pursued my current position. I am now on staff at the very school at which I served as an adviser. I don't think I would have gotten this position if I did not have the experience of being a college adviser for two years beforehand. My service has directly impacted the trajectory of my career and passion by opening my eyes to the significant barriers and gaps in college access for underrepresented populations.
If you could share just one bit of advice with our incoming advisers, what would that be?
We can learn just as much from our students as they learn from us. Always appreciate differences in experience and new perspectives that students bring and utilize them to make yourself and your advising that much better.
If you are a College Advising Corps alum and would be willing to share your experience serving as an adviser, please contact Karen E. Butler, Sr. Director of Communications. If you are a recent or soon-to-be college graduate and interested in learning more about serving, visit Become An Adviser. 
---