Life After The Corps
3 min
Alejandra Acosta
---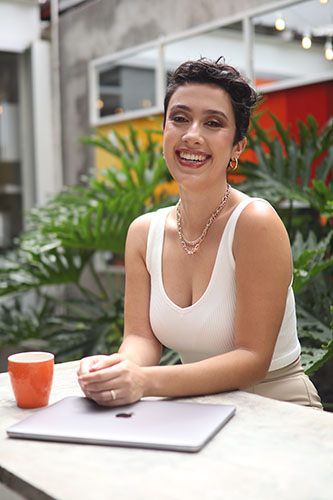 Alejandra Acosta received her bachelor's degree in sociology and Spanish, community and culture, from the University of California, Los Angeles in 2011 and her master's degree in higher education from the University of Michigan in 2018. She served as a College Advising Corps adviser at UC Berkeley from 2015 to 2017. During that time, she supported students at Willow Glen High School. She is the daughter of Mexican immigrants who are first-generation college graduates.
Education was pivotal for my family. It was and continues to be important to me to help others in my community have a chance at the experience I had to go to college.
Today, Alejandra serves as a senior behavioral scientist with Discourse Analytics. She is available as a mentor to current advisers via CAC Connect. Read on to learn more about Alejandra, her time as an adviser, and her life after the corps.
How did you hear about College Advising Corps and what compelled you to apply?
My former high school counselor shared the opportunity with me! I knew I wanted to go into education after college but thought my only option was to become a teacher. I had been volunteering to help undocumented students apply to college and was really passionate about helping folks go to college, so the Corps was perfect for me. I'm so glad my counselor shared the opportunity with me. She continues to change my life 10+ years after I graduated from high school.
What was the most challenging aspect of serving as a CAC adviser?
The most challenging aspect of serving as a CAC adviser was actually dealing with the adults! Stressed parents, school leadership, supervisors, and other adults have jobs they need to get done and a way they want to get them done. Sometimes I felt this got in the way of supporting students and it was frustrating, but it's part of the job.
What was most rewarding as it relates to your service?
The most rewarding part was obviously seeing students pursue their education after high school. Some students hadn't really thought about college as a part of their life trajectory and they were so proud to be starting at our local community college. Others were super anxious to get into their dream school and made it. Being a part of their journey to college and a better life—for them, their families, and their communities—was the greatest honor of my life.
What promising practice did you find most valuable?
Building trust and rapport with students is very important, so two ways my co-adviser and I built that with our cohort were always having snacks available and participating in school events. Snacks were a fun way to get students to come to the career center, feel comfortable, and do the work they needed to get done. Volunteering as a dance chaperone or participating in a school rally also showed the students that we were authentic and cared about them as people.
If there were one thing you would change about the program, what would it be?
I was one of few sites that had two advisers and I loved it. I think we were able to get a lot more done by working as a pair compared to advisers who serve alone. I would make it so that school sites could have two advisers.
Where has life and career taken you since your time with College Advising Corps?
Since working as an adviser, I pursued graduate school with the intent of working in higher education policy and research. I have worked at a couple of think tanks doing research on higher education state and federal policy and on technology use in higher ed. While I enjoyed the work and was finally working to change the system as I had wanted to for so long, I also got frustrated with the glacial pace of higher ed. I now work at an education technology startup, advising them on how to use their technology more equitably, and writing messages that the technology sends to students. I'm also working on starting my own college advising business.
How has your service with CAC helped propel or inform your career?
My experience as an adviser has been foundational for all of the work I have done since CAC. Believe it or not, a lot of people who study and work in higher education policy or research have never worked directly with students. Many of my graduate school classmates had not either. My advising experience allowed me to see how what I was studying would affect real people. It has been really grounding.
What advice can you share with new advisers?
Enjoy your time with your students and the school site team. My time as an adviser was the happiest time of my life in retrospect.
If you are a College Advising Corps alum and would be willing to share your experience serving as an adviser, please contact Karen E. Butler, Sr. Director of Communications. If you are a recent or soon-to-be college graduate and interested in learning more about serving, visit Become An Adviser. 
---